The 2017 GCPS District Teacher of the Year is....
Angela Mangum


Music Teacher,
Tar River Elementary School
Pictured L-R: Angela Mangum, 2017 Teacher of the Year; David Richardson, Board Member; Alexis Benitez, 2016 Teacher of the Year; Dr. Michael Myrick, Assistant Superintendent.
Video of the announcement!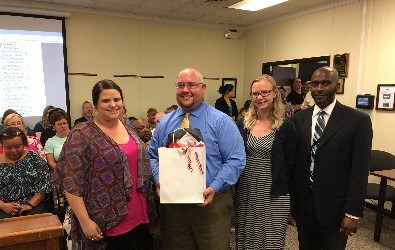 At their regularly scheduled meeting on Monday, May 1, the Granville County Board of Education recognized all 19 Teachers of the Year from their respective schools. Granville Education Foundation Executive Director, Dori Koinis announced the two runners up and the District Teacher of the Year, and presented monetary awards. First place winner was awarded a check from the Granville Ed Foundation for $1000 and a new Apple iPad; first and second runners-up each received a check for $500.
all 19 Teachers of the year!
Congratulations and thank you for all you do!
At a special banquet ceremony held on Tuesday, April 25 at Mary Potter Middle School, all Teacher of the Year recipients were honored for their service. Joined by friends, family, and colleagues, the Teachers of the Year enjoyed a catered meal and were treated to remarks from keynote speaker, Jackie Sergent, Mayor of Oxford. Ms. Sergent's remarks in their entirety follow below:
"Teaching is the greatest act of optimism." (Colleen Wilcox)
And can there be a better place to celebrate the optimists than here with each of you?
It is a true honor for me to be before you tonight on such an auspicious occasion. I'd like to thank the Granville Ed Foundation for its sponsorship and support of this evening and our schools, along with Dr. Howard and his staff for taking a leap of faith in asking me to speak to you today, as I believe that there are so many others in the area that are more suited to this task! Not the least of who is any one of you sitting here tonight – waiting to be celebrated – as no one knows better the travails and triumphs of teaching than you. I might admire and celebrate you, but am unlikely to be able to speak to the work that you do day after day, better than any of you could do yourselves!
So – before I continue, allow me to congratulate each of you here tonight for your service to Granville County Public Schools and the children in your charge. You are the beacons that shine the light for so many. I also thank the leadership and staff of this school district which is dedicated to working with you, and all our teachers, to create a system of learning opportunities for our children that will blast them into a successful future! There is no doubt in my mind that we are blessed in so many ways to have each of you here with us, in Granville County, working for our children and their families to help all boats rise to the top. Please let's take a moment now to give these teachers a hand and celebrate their success! (clap)
While I have pointed out that I am not likely the most apt or knowledgeable of choices to speak about your teaching accomplishments tonight, I can say this: I believe unequivocally that the work that you do is not only some of the most important work there is, it is also critical to the well-being of Oxford and, as such, something I think about almost daily. I think about Dr. Howard, I think about our principals, and I think about the teachers and staff, BECAUSE:
As former teacher and bullying expert, Barbara Coloroso, said, "If kids come to us from strong, healthy functioning families, it makes our job easier. If they do not come to us from strong, healthy, functioning families, it makes our job more important."
"...If not – it makes your job more important."
This is the work that you do – you are not only building minds, but you are also saving children and families! Families living in poverty are more likely to be struggling with a variety of issues on a daily basis, so for any community leader, this is a factor in a community's health. And the poverty rate in the city of Oxford is around 25%. So - about 1 in every 4 people in our city is living in poverty, with fully 17% of our households living on an income of less than $10,000 a year. Thirty-four years ago, in our first house on Hancock St, my husband and I were also in that boat – but it was 1983, not 2017, and we didn't have kids, so there were only 2 mouths to feed. We were both working, but even so, we still couldn't pay our oil bill, so we had to turn off the heat in the middle of winter and wear our coats indoors. We still had enough to eat though, and a way to get to work, and a roof over our heads. What are the lives like of the children you teach today whose families are living on $10,000/year? Or the 24% more in Oxford who live on between $10 – 25,000/year? And it is girls, ages 6 – 11 years old, who make up the largest proportion of our people in poverty. For those of you teaching in Oxford, these numbers are your children.
That is why I am a champion for the work that you do – because for Oxford and Granville County to thrive for the next generation, we need to help these children thrive. We all know that people with more years of education tend to have higher incomes and live in healthier and safer environments compared to those with less education. And people with less education are more likely to struggle to find employment that pays a living wage, much less provides benefits like health insurance or paid vacation – you are the keys to opening the door to that future for our children!
You are providing the safe haven, you are providing the adult example for at least 1/3 of their day, you are giving them the tools to gather so much knowledge and opportunity that, once learned, they will no longer remember what they didn't know or couldn't do, and take much of it for granted. Once we know how to read, can we even imagine, much less remember, what it was like when we couldn't? You are the KEYS!
Many of you know that my husband Hervé taught foreign languages at JF Webb for 24 of his 25 teaching years – Raise your hand (and keep it up) if you have done any of this sampling of things I have seen him do:
Study study study to become certified
Write lesson plans after lesson plans
Give up planning periods to help other teachers or students
Spend your own money for supplies, and
Work nights and weekends to accomplish the goals you have for your students. For ~10 years or so, Hervé took students overseas every summer; upon his return, he was always sick for a week, because he was just so exhausted from the worry and effort of taking care of everyone.
This is who you are, this is what teachers do, and this is why you are being celebrated tonight. Lee Iacocca said, "In a completely rational society, the best of us would be teachers and the rest of us would have to settle for something less." Every teacher deserves to be celebrated, but tonight we are gathered to celebrate each of you – because you are doing something more – something that has caught the attention of your peers to merit recognition. You are trying something innovative, you are showing your hunger for the work by coming in early or staying late, you are the confidant that the students gravitate towards, you have connected with some incorrigible ones, or you have helped some others master the most complex of concepts.
You are there, every day –
On the days when you want to scream, instead you close your mouth
On the days when little Toby sneezes in your face, you give him a tissue
On the days when your head aches and you can't hear yourself think
On the days when little or big voices are like clanging cymbals
On the days when one more smart remark could make you imagine the unimaginable
You are there, every day – You Are Still the KEYS
You are the KEYS that these children – our communities' children – depend upon to open the door to the future they need and deserve. Whether the children you teach are the most or the least of us – they are the future who will inherit the best and the worst of our world, and they are depending on you to unlock the doors of their potential.
You are the KEYS that can, and are making, a difference for every child you touch, impacting the households they come from and the communities they live in. What you do flows to so much more than what you see in your classroom – and we are so fortunate that you have each chosen this most important of professions and to practice it in Granville County.
According to author Antoine de Saint-Exupéry, "If you want to build a ship, don't drum up people together to collect wood, and don't assign them tasks and work, but rather teach them to long for the endless immensity of the sea." I am confident that you are the KEYS to opening the doors of longing for your students, and that we are all the beneficiaries of having you here in Granville County with us. I hope that the rest of you here tonight will please join me in saluting our 2017 GC Teachers of the Year.
Presented: April 25, 2017
Mayor Jackie Sergent